While the complexities of timing and synchronization necessary for PIV can be overwhelming, Berkeley Nucleonics Corporation [BNC] offers multiple products to manage your PIV timing needs with a single device. The BNC Model 575 Digital Delay/Pulse Generator and Model 725 Multi-Trigger Digital Delay Generator offer simple yet accurate timing and synchronization solutions for particle image velocimetry.
The BNC Model 575 is designed to handle the precise timing needs of high-speed PIV while offering an intuitive onboard interface [Figure 4]. With up to 8 channels and a 250 picosecond resolution, the Model 575 is capable of controlling laser and camera timing in addition to other experimental equipment requiring timing or synchronization. The onboard programming interface bypasses the need for devoting computer resources to timing and synchronization while maintaining adaptability. The Model 575 is an excellent choice to efficiently acquire data with a basic PIV system while maintaining a short learning curve.
The BNC Model 725 works equally well for PIV experiments but offers extensive control for more experienced users [Figure 5]. Unlike the Model 575 which uses a common clock to trigger up to 8 channels, the Model 725 offers independent triggering of up to 8 channels with a resolution of 10 nanoseconds. While the Model 725 functions as a stand-alone generator, full user control is available with the included timerPRO computer software. Drivers are also included for integration into LabVIEWTM. Once programmed, the Model 725 allows repeatable, precise, and accurate control of your PIV experiment.
Both the BNC Model 575 and 725 can save time and money when setting up and operating any PIV system.
BNC Model 575 Digital Delay/Pulse Generator
• 250ps delay & width resolution per channel
• 50ps channel jitter / 800ps RMS external jitter
• Independent clock rates for each channel
• Dual inputs [ Gate + Trig / 2 Trig ]
• Programmable [ Ethernet/USB/RS-232/GPIB ]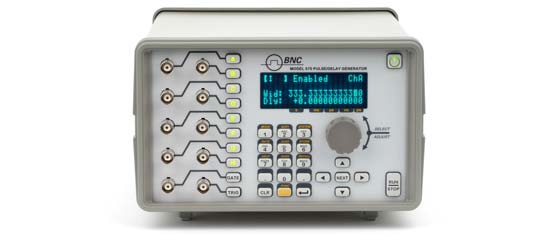 BNC Model 725 Multi-Trigger Delay Generator
• Trigger-pulse delay: 50ns - 1370s
• Inputs: 8 external & 7 internal
• Outputs: 8 internal [to timing processors]
• Delay jitter from internal source: 200ps
• External trigger duration: 50ns